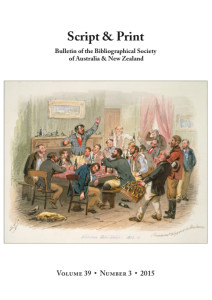 Contents:
Chris Vening — Harry Dashboard and Fisher's Ghost
Jocelyn Hargrave — Joseph Moxon: A Re-Fashioned Appraisal
John Arnold — Worthwhile Rarities?: The Fiction of Eric Partridge
B. J. McMullin — Bibliographical Note: An Eighteenmo in Thirty-Six
You can subscribe to Script & Print by becoming a BSANZ member.
Alternatively, you can read the latest issue of Script & Print at APA-FT.