Contents: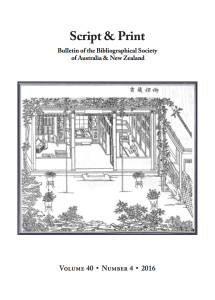 Chris Vening — William Martin Leggett: The "Bard of New Brunswick" in Australia
Donald J. Kerr — For the Boys Over There! The Churchill Auction of Books and Pictures in New Zealand, 1942
Duncan M. Campbell — Henry E. Huntington's Chinese Book: A Bibliographical Note
You can subscribe to Script & Print by becoming a BSANZ member.
Alternatively, you can read the latest issue of Script & Print at APA-FT.